Take on a multi country Safari tour in Rwanda, Uganda and DR Congo to experience encounters with the Mountain Gorillas of in Volcanoes National Park, Bwindi Impenetrable National Park and Virunga National Park . Expand your horizons on upscale safari adventure journeys around the countries. Experience meaningful Safari experiences to Rwanda, Uganda and Congo, cultural encounters with carefully-crafted itineraries that include the most popular and fascinating sites to be visited like the Volcanoes National Park, Akagera National Park and Nyungwe National Park. Check out on our Customized Multi Country Safaris travel Experts of Active African Vacations.
5 Days Uganda Rwanda Trek
Get the Short Excursion of 1 Day Gorilla Safari to Rwanda visiting the Volcanoes national Park, Enjoy Gorilla Tour Trail with Rwanda Gorilla Trek,Read More| Contact us
7 Days Uganda Rwanda
Find the Best Discounted 2 Days Gorilla Tour Rwanda to Visit Volcanoes & Kigali City Tour at the Lowest Rate with Rwanda Gorilla Trek. Read More |Contact Us.
8 Days Exceptional Encounter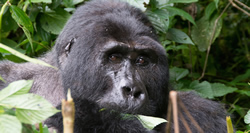 Get 3 Days Gorilla Safari Rwanda at the Lowest Rate to trek the Mountain Gorillas & Visit the Golden Monkey, primates Watch in Rwanda, Read More |Contact Us
9 Days Gorillas & Nyiragongo
Wishing to Enjoy 2 Gorilla Treks in Volcanoes National Park? Select the 4 Days Rwanda Gorilla Tour with Rwanda Gorilla Trek at the Best price, Read More | Contact Us
10 Days Uganda Rwanda Safari
Looking for a primate Adventure tour in Rwanda? Select 5 Days Gorilla Safari Rwanda to go Gorilla Trekking in Volcanoes National Park, Read More | Contact Us.
13 Days Uganda Rwanda Gorillas
Find the Ultimate Gorilla Safari in Rwanda once you select the 6 Days Gorilla Tour in Rwanda, Visit Volcanoes National Park with Rwanda Gorilla Trek. Read More | Contact us.